Office space design / Corporate architecture
Since 2006, our collective's architects and interior designers create and supervise your office redesign project : headquarters, agency, startup, coworking space, business centre… They work with you to imagine and design your workspace in Bordeaux and in Nouvelle-Aquitaine, while making sure it is reflecting your business identity.
Why should you hire an office space designer ?
Get coached by a skilled interior designer, with all required professional insurances. Benefit from the help from a certified architect or interior designer (French standards: DPLG-DE-HMONP) specialised in office architecture and interior design to think through your main concept and create your workspace.
Delegate the burden of mandatory administrative procedures to complete your office redesign project: building permits ("permis de construire"), prior works declaration ("déclaration préalable"), etc.
Be assisted during all steps of your workplace redesign or creation: offices, coworking space, HQ, conference centre, medical centre or clinic…
Get a layout project from your architect or interior designer that reaches your functional goals (receiving public, employee wellbeing…) while displaying your company branding and values in your space.
Visualise your space renovation or new office thanks to graphic material that helps you feel confident about design decisions.
Make sure you get the right quotes by letting your architect or interior designer negotiate with selected service providers (suppliers, craftsmen, construction companies) as part of the design work.
If you want to design a commercial space (shop, restaurant, bar, hotel, hospitality), we offer a commercial architecture service adapted to the needs of businesses.
> See our office space design and architecture projects (offices, coworking spaces)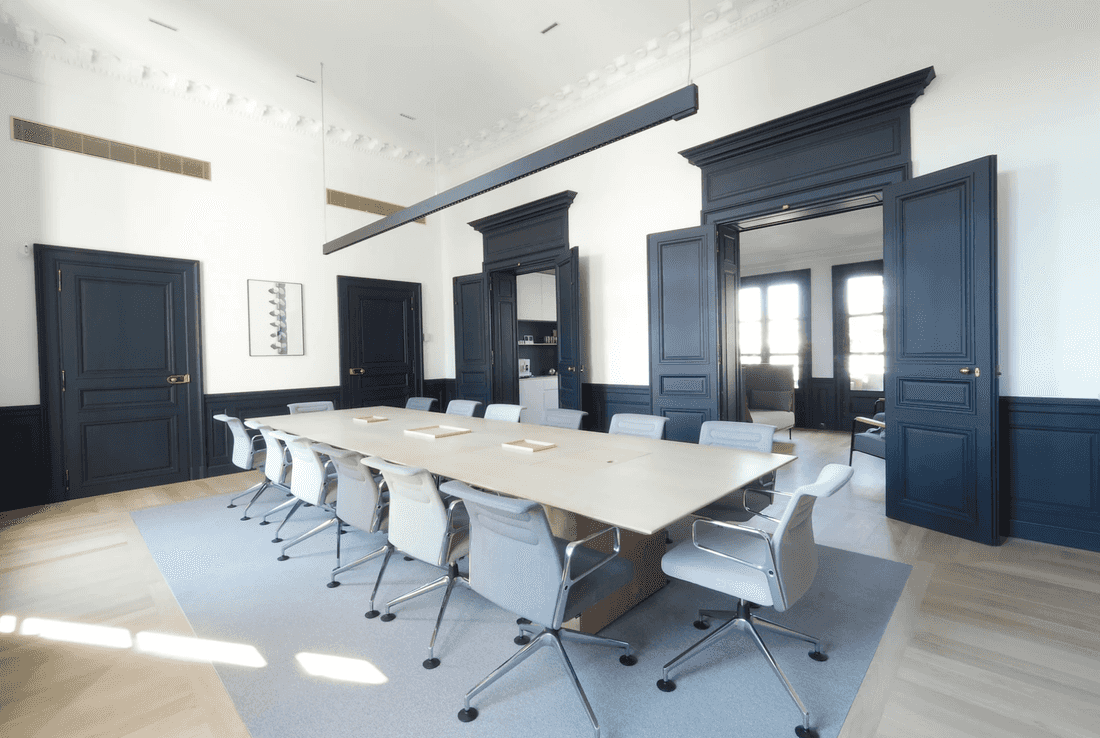 Steps of your office space design project
Designing or renovating your office space in Bordeaux requires studying your brand identity, needs and style expectations (colors, shapes…).
Your designer's goal is to deliver office space that fulfills your needs both in terms of functionality and decoration, and all within a specific budget that you provide.
Based on their suggestions and on your feedback, your office space / workplace design project is gradually refined before starting the work.
Step 1: Meeting your designer and describing your needs
During your first appointment, you'll share your needs and expectations with your architect/interior designer regarding the creation or renovation of your workplace, whether it's an office, an open space for a startup, a branding or advertising agency, a coworking space or a conference and convention centre.

Besides your styling preferences, you'll be able to brief your designer in terms of office space organisation. For example: staff flow in the space, collaboration between the different departments, need for meeting spaces.

Based on this info, your interior designer or architect will be able to analyse your project and provide you with an early concept that matches your business and your brand. Example of info: space potential, ups (brightness, freedom of moving and breaking) and downs (load-bearing walls, pipes/networks, standards/regulations). You'll already get a few design and decoration ideas that will kickstart your project.

At the end of the meeting, you and the designer discuss next steps as well as the service scope for your office / worplace design project. Multiple conversations may be required. Once you have agreed on a concept, you can decide to move forward with a design study (see Step 2). You'll receive a mission contract showing fees and project steps.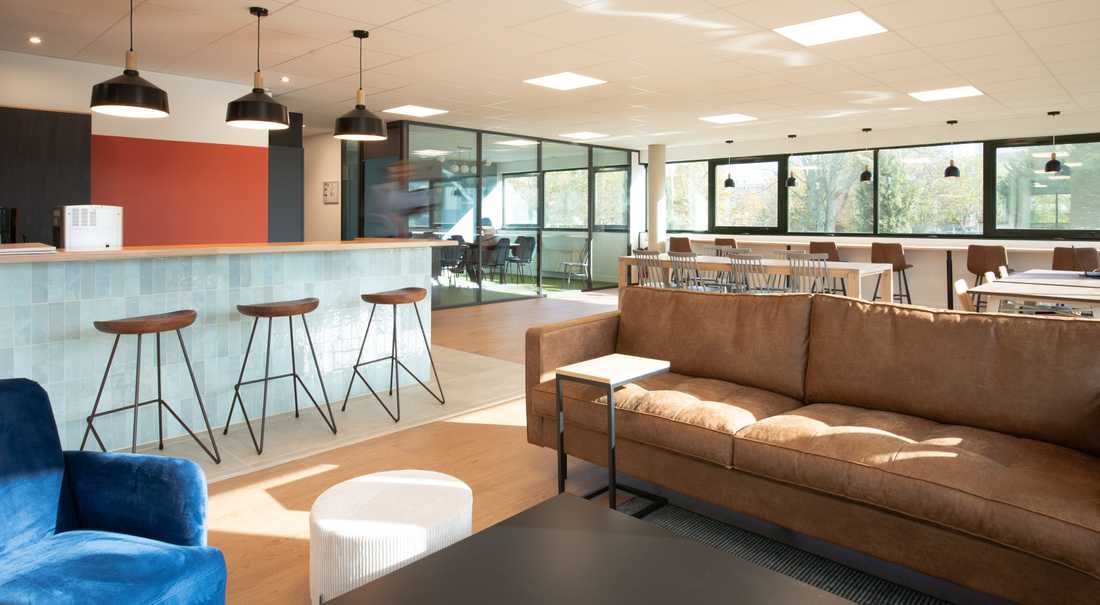 Step 2: Specifying your office space design project
The second step of your workplace design project focuses on granularly defining all elements that are necessary in order to implement the new design:
Style (look & feel): based on an analysis of the existing space, and taking into account your business needs, you will get concrete sketches highlighting the planned changes and helping build up specifications.
Once you agree on sketches, a draft project is submitted to you.
Your architect or interior designer will then select and suggest furniture and other decoration items as well as references for materials (tiles, wooden floors, taps…).
Once all characteristics have been validated for the project, architects or interior designers will work on drafting all technical documents (building site description) which will be used as a reference during the works (layout incl. dimensions, elevation and sectional plan, electrical mapping, all rendered in 3D).
One crucial aspect of the work is to provide you with documents that meet labor laws as well as safety, accessibility, acoustics and HVAC or HVAC (Heating Ventilation Air Conditioning) standards. If needed, the architect or interior designer may seek the help of design and control offices.
All administrative procedures required before starting any on site work are completed (requests for building permits from the appropriate authorities: town/city halls, "préfecture", accessibility regulators, safety commissions, firefighters…).
Once specifications have been completed, the interior designer or architect shares an estimated cost for the works as well as a detailed price list for furniture.
At this stage of your office space design project, you can decide to appoint the same architect or interior designer for the supervising step of your project (see step 3).
Step 3: Supervising the design works in your office
Once all the different aspects of the project have been decided and specified (masonry, coatings, plumbing…), the architect reaches out to appropriate selected companies and suppliers in Nouvelle-Aquitaine. He/She analyses quotes and offers for your design or renovation works, so that you can validate the final budget.
The architect/interior designer is then responsible for setting up and preparing the work site as well as supervising all stakeholders, craftsmen and construction providers during the execution stage.
Quality and compliance checks are performed for the entire duration of the works.
Site visits are organised in order to keep you updated on the works' progress and deadlines.
While work on site is still in progress, the interior designer/architect refines decoration choices (furniture, tables, chairs, lighting, art…).
Once the execution step is completed, the new space design is finetuned before the opening or reopening of your offices, headquarters, conference centre or coworking space.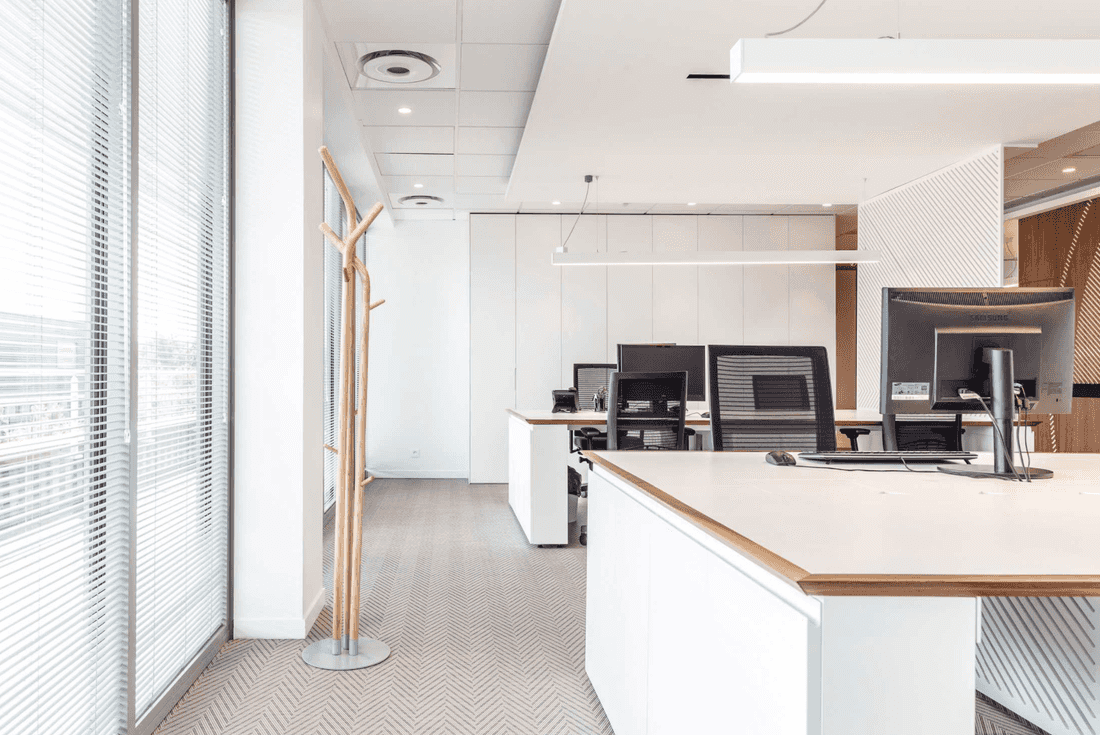 Fees for office space design projects VAT excl.
Step 1 - Meet your designer/Description of needs

Free

Step 2 - Specification for your office redesign project (by tier)

Surface ⩽ 50 m²
From 80 € / m²
Between 51 à 100 m²
70 € / m²
Between 101 à 200 m²
60 € / m²
Between 201 à 300 m²
50 € / m²
Surface ⩾ 301 m²
Contact us
Step 3 - Supervising office space design works (by tier)
| | |
| --- | --- |
| Under 100 000 € total works budget | 9 % of the total budget |
| Between 100 000 € and 200 000 € | 8 % of the total budget |
| Between 200 000 € and 300 000 € | 7 % of the total budget |
| Over 300 000 € | Contact us |
You are free to use the services for as many steps as you want/need.
Our office space design service is available in Bordeaux as well as in the surrounding municipalities of the CUB (Communauté Urbaine de Bordeaux): Bruges, Le Bouscat, Eysines, Le Haillan, Mérignac, Pessac, Talence, Gradignan, Bègles, Saint-Médard-en-Jalles, Bouliac, Latresne, Villenave d'Ornon, Floirac ou Parempuyre. Our architects and interior designers also operate in other parts of Gironde (33) and Nouvelle-Aquitaine, such as Arcachon, La Teste-de-Buch, Le Pyla-sur-Mer, Gujan-Mestras, Le Teich, Andernos-les-Bains, Lège-Cap-Ferret.