Off plan home design consultancy
Are you planning to purchase an apartment or a house as part of a French "VEFA" real estate program? Vente en l'État de Futur Achèvement, more commonly known as "buying off plan", lets you purchase a house or apartment in Bordeaux and surroundings before it is even built. Since 2006, our architects have been helping you make the best decisions when it comes to customising your off plan home.
Getting the expertise of an architect before buying your off plan home in Bordeaux
Optimising the layout: You have received a layout proposal from the contractor and want to provide feedback with an expert eye before any commitment is done. While building contractors must follow all existing standards and regulations, some will accept reasonable plan adjustments for your needs. In this case, we can help you edit the plans before project completion.
Pre-purchase consulting: You need to make decisions about options such as room distribution, choice for materials, floor coverings, kitchen and bathroom layout, etc. You would like to get an outside perspective to assess your options and make the right choices. This is an extra professional validation that confirms you are making the right move before purchasing your home.
Preparing your request for purchaser works modification (in French "Travaux modificatifs acquéreur", also known as TMA): this document lists all optimisation requests from the buyer to the developer/provider. They can apply to the walls/room separation, storage, decor (paint, parquet, tiling) or the organisation of the electrical circuit.
Post-delivery decoration: As your new home is delivered unfurnished and plain, you may want to reorganise and personalise your space. We can then provide you with interior design services on your off plan property.
Working with an architecture specialist before an off plan real estate purchase
Step 1: Meeting your off plan home design specialist
At any point or step of your project, you can meet with an interior designer or decorator at the contractor's sample house or apartment, construction site or simply at your current home. The goal of this meeting is to look at your off plan (VEFA) real estate project in Bordeaux and its surroundings in detail to make the best choices. In other words, you and your consultant will review the documents provided by the developer, which contain all development options.
Your consultant collects information about your needs and lifestyle to determine if your real estate project is relevant for your situation.
They list all possibilities in the new apartment (distribution, options for space and brightness optimisation). During this meeting, they share ideas and planning advice for your future off-plan real estate purchase.
Based on this first, in person recommendations, you will get some ideas to request optimisations for your future house or apartment plan directly to the real estate developer.
You and your advisor may need several meetings in order to finetune the recommendations. Once you have solid advice, you can opt in for a full redevelopment study (Step 2) done as part of a contract including fees and steps of the project.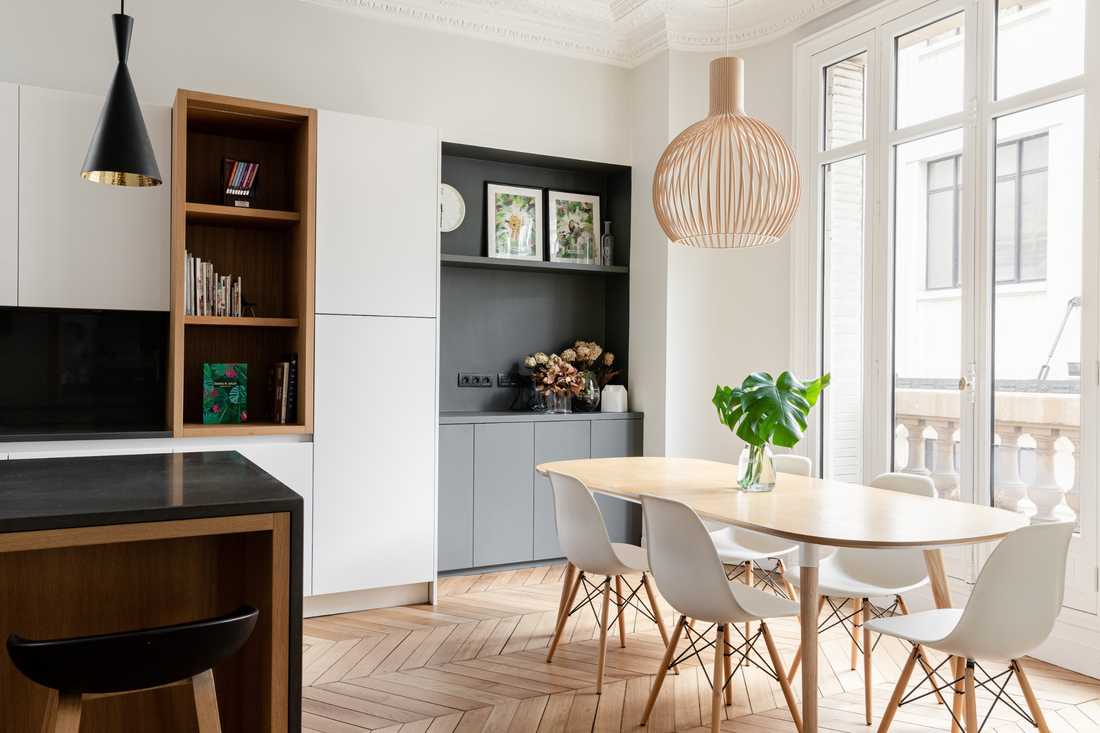 Step 2: Detailed specifications
As part of an in-depth study for your off-plan apartment layout, an interior designer or decorator will provide guidance on choosing the right design options during ongoing construction. This includes optimised plans (room and wall distribution, electrical plan validation, and so on) which can be shared with the real estate developer as part of TMAs ("Travaux modificatifs acquéreur").
Thanks to these specifications, some updates can be applied by the contractor during construction, depending on construction stage and progress at study time.
Specifications also include 3D layout plans for room customisation (kitchen, bathroom). These materials help you picture into your future home and anticipate the level of effort needed once the new apartment is ready to be optimised.
Once specifications are ready and approved, your interior designer or decorator sends you a cost estimate for the works. This is a back of the napkin estimate for the sole purpose of information.
At this stage, you can decide to keep working with Créateurs d'intéreirus for the rest of your off plan customisation mission, or hire your own provider. When you have the keys of your VEFA apartment or house, we can monitor and coordinate the construction stage with all contractors and monitor progress.
Step 3: On site works monitoring (contractors, orders, furniture shopping, layout)
Based on the site specifications, the interior designer or decorator will reach out to trusted craftsmen or construction companies, selected for you according to your specific project. Their expertise and knowledge of the market allows them to obtain fair rates.
Once your new apartment is ready for further works and the contractor's quote has been approved, your interior designer monitors the proper implementation of planned works (kitchen, bathroom, carpentry, colours, etc.).
They coordinate all players in the renovation project: general building contractor in Bordeaux, kitchen designer, tiler, electrician, carpenter, painter, etc.
They ensure the full completion of your project and monitor progress, compliance with deadlines, compliance with specifications, quality, etc. They regularly set up meetings in order to keep you updated about the implementation stage.
Thanks to their expertise in interior decoration, they are well suited to help you select great furniture for a perfect new home in Bordeaux and in Nouvelle-Aquitaine.
Whenever possible, you benefit from business discounts from suppliers and shops in Nouvelle-Aquitaine selected for your interior decoration.
After you move in, the designer helps you set up furniture and decoration items.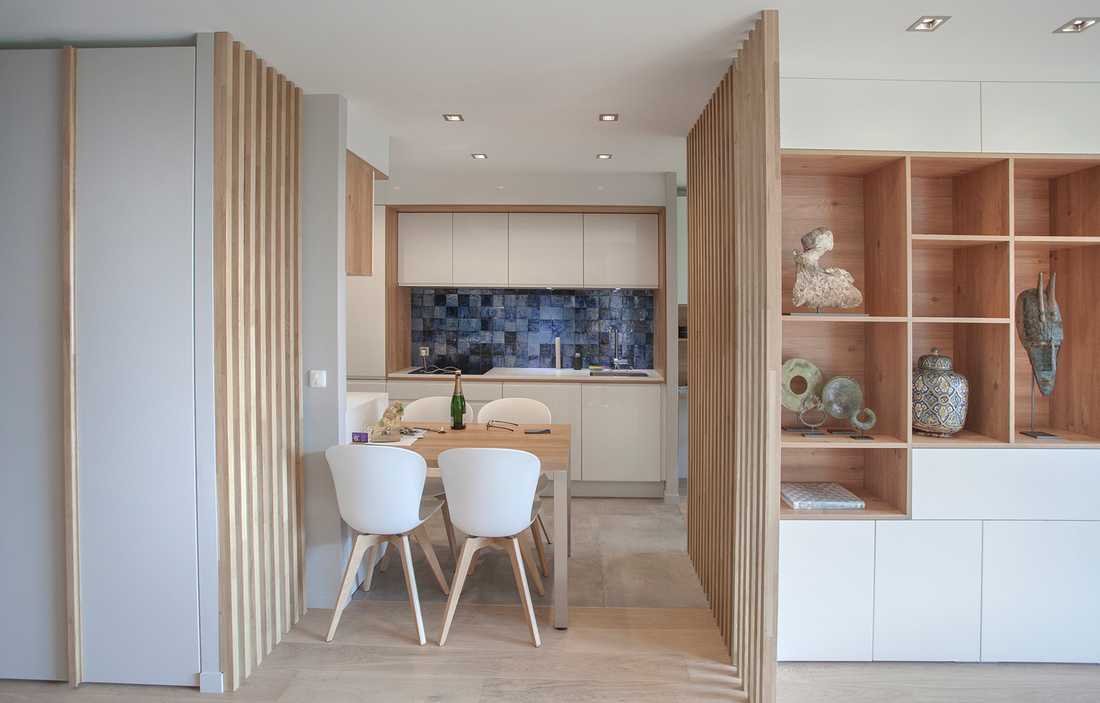 Our off plan home design service is available in Bordeaux as well as in the surrounding municipalities of the CUB (Communauté Urbaine de Bordeaux): Bruges, Le Bouscat, Eysines, Le Haillan, Mérignac, Pessac, Talence, Gradignan, Bègles, Saint-Médard-en-Jalles, Bouliac, Latresne, Villenave d'Ornon, Floirac ou Parempuyre. Our architects and interior designers also operate in other parts of Gironde (33) and Nouvelle-Aquitaine, such as Arcachon, La Teste-de-Buch, Le Pyla-sur-Mer, Gujan-Mestras, Le Teich, Andernos-les-Bains, Lège-Cap-Ferret.